About Us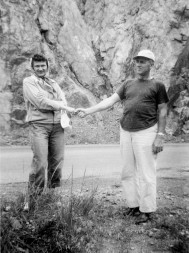 Veona LaRue and Maynard
Our Story
Veona LaRue Newell was a strong, witty woman, and was an inspiration to many. Specifically, as winemaker Katy Wilson's great-grandmother, she was the inspiration for LaRue Wines. Veona never knew why her mother gave her a middle name no one else in the family had. Its uniqueness often bothered her, but her uniqueness was what made her so special. She never let a thing get her down and kept her wittiness even at 97 years old. In 2009, when Katy told her the wine would be named LaRue, Veona, in classically humble fashion stated "Well, I can't say that you picked the best name in the world…"
Since 2009, LaRue Wines has focused on making high quality Pinot Noir and Chardonnay, exclusively from vineyards on the Sonoma Coast. The wines are elegant, restrained, and forever inspired by the resilience and strength of one Veona LaRue.
---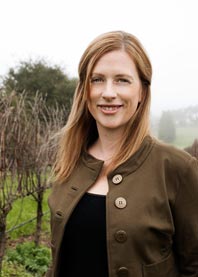 Katy Wilson
Katy Wilson, owner/winemaker
Not a lot of people know what they are going to do at 18 years old, but owner and winemaker Katy Wilson did. In her first class at Cal Poly, San Luis Obispo, Agricultural Business 101, as the professor was listing off the careers you can have post graduation, becoming a winemaker stood out in particular. Wine is agriculture and chemistry, social and innovative. As a winemaker, one is creative and scientific. It was a perfect fit and Katy has never looked back.
Her journey to become a winemaker has taken her both near and far. From growing up on a walnut farm, to when she learned how to drive a tractor before a car, to her time at Cal Poly, to her first harvest making Pinot Noir in California, to her travels back and forth from the Northern & Southern Hemisphere for harvests, she finally settled in for some time at Flowers Vineyard & Winery. At Flowers, she worked her way from being harvest enologist to assistant winemaker. It was during this time that Katy fell in love with the Sonoma Coast and truly developed a passion for making Pinot Noir and Chardonnay. It is with this passion that she has made LaRue Wines.
Since LaRue's first harvest in 2009, Katy has worked diligently to make high quality Pinot Noir from some of the top vineyard sites on the Sonoma Coast. In 2014, she started working with her first Chardonnay grapes as well. In 2013, wine writer Jon Bonné named her as a "Winemaker to Watch". Maxing out production at about 500 cases, Katy is determined to do everything on her own, from hauling grapes, to punchdowns, to racking. It is her passion for making excellent wine that drives her intense involvement in every aspect of LaRue Wines.
Alongside LaRue Wines, Katy works with several other projects. Currently, she makes wine for Anaba Wines, Claypool Cellars, Reeve Wines, and Smith Story Wine Cellars.